"The amount of rainfall is indirectly proportional to the amount of work accomplished, and directly proportional to the amount of food taken."
-a tweet I saw last Sunday, just before the typhoon started getting serious with its business
Well, it's Day 5 of confinement for most of us. And I'm tired of leaks, of being unproductive, of suspended classes, and of the kind of weather that just won't let me bathe.
Okay, I was kidding.
But to be completely honest,
I've grown sick of the rain.
Seeing tragic news on TV breaks my heart.
My prayers go to each and every one of my countrymen who got affected by the typhoon, especially to those who lost their homes and loved ones.
I just hope the sun comes out and radiates on every one of us, as soon as possible.
The Philippines definitely needs some warmth and some cheering up at a time like this.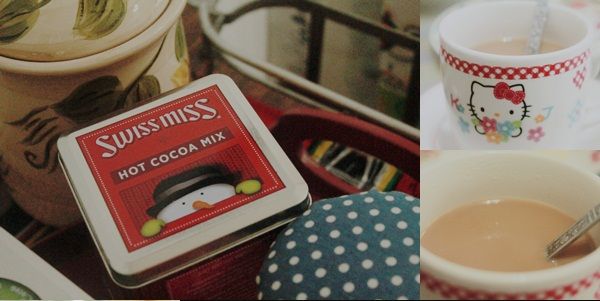 Hot chocolate for breakfast
So far, today started out pretty sunny- if you exclude the few instances when the sky started to act all bipolar and berserk by violently pouring down rain for a good two minutes and then all of a sudden, by stopping and acting as if nothing had happened.
But yeah. Today's a good start. I could see the clear skies and I could hear the birds chirping once again.
Our pets outside seem happy, too.
This should give us hope, right?
After all, the Filipinos are known to have such joyful hearts and hopeful spirits.
Stay safe and dry, my friends.
Now on to study for my exam this Saturday
(because I am hopeful that classes will resume this week),
The Teenage Queen