Hershey dyes..... her hair brown. =))
Lol. Two weeks ago, before the second semester started, I promised myself that I was going to give myself a much-deserved makeover. You see, I've totally forgotten to take care of myself the past 6 months. Not only was I a wreck emotionally; I also looked like one, too. I let my problems get the best of me, and so, I forgot to properly present and carry myself. I went to school looking like a mess. A mistreated, stressed out, sad-looking mess.
And now that I'm finally learning to move on, to appreciate whatever I have now, I promised to treat myself better; to love myself more than anyone could. Some people may come and go; some may make you feel like you're the worst person in the world; but at the end of the day, the only one you've got's yourself. We should never forget to love and take care of ourselves.
And so, here's to a better, happier me!
Other than the many bullets on my checklist like:
"Hoy Neri, change your study habits plz lang"
"Update-update din ng wardrobe pag may time ok"
"Mag-exercise ka na jusko!!!
"Diet. That is all."
another item I have just recently (and proudly) ticked off was
I have always been afraid of drastic changes ( hashtag hugot!!!! ), but I guess I'm really thankful I had the guts to go through this one.
-----------------------------------
I didn't think it was practical to pay 1K plus for a hair coloring treatment. And so, I followed my sister's advice: Try out
Etude House's bubble hair color.
I bought a pack for 375 pesos. Its shade was in
NATURAL BROWN
. I also found out that it was ammonia-free so yay!! :)
The box included:
Hair coloring
Oxidizer in pumping bottle
Hair treatment
A pair of gloves
A plastic cape thingy to protect your clothes from staining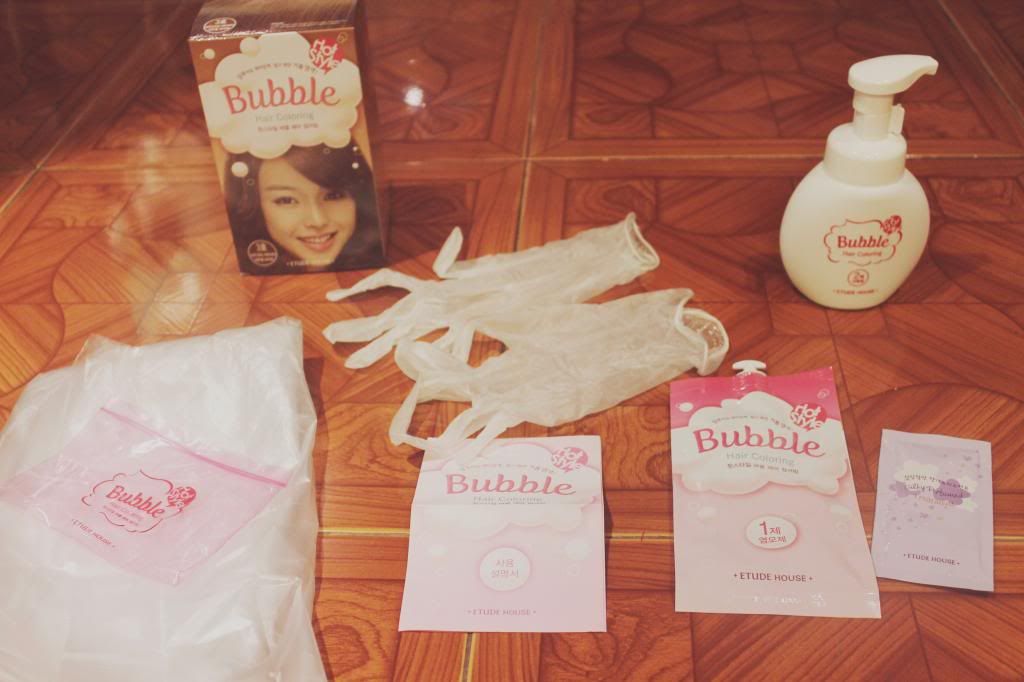 (clockwise: plastic cape, plastic gloves, oxidizer in pumped bottle, hair treatment, hair coloring, instructions manual)
So basically, what you do first is mix the solution by transferring the hair coloring into the oxidizer in the pumping bottle. Close the lid and gently shake from side to side.
Pump the bottle. Apply the bubble/foam onto your hair..Leave for 45 minutes. Rinse.
Apply the hair treatment on all parts of your hair. Leave for 5 minutes. Rinse.
(I super like the hair treatment because it really turned my hair magically smooth and silky LOL haha but seriously tho; I thought my hair died from all the coloring because it suddenly turned dry and brittle, but after using the Silky Hair Treatment, my hair became silky smooth--like magic!)
AAAND OK IM TOO LAZY TO EXPLAIN WHAT I DID STEP-BY-STEP. Haha! Here are pictures instead: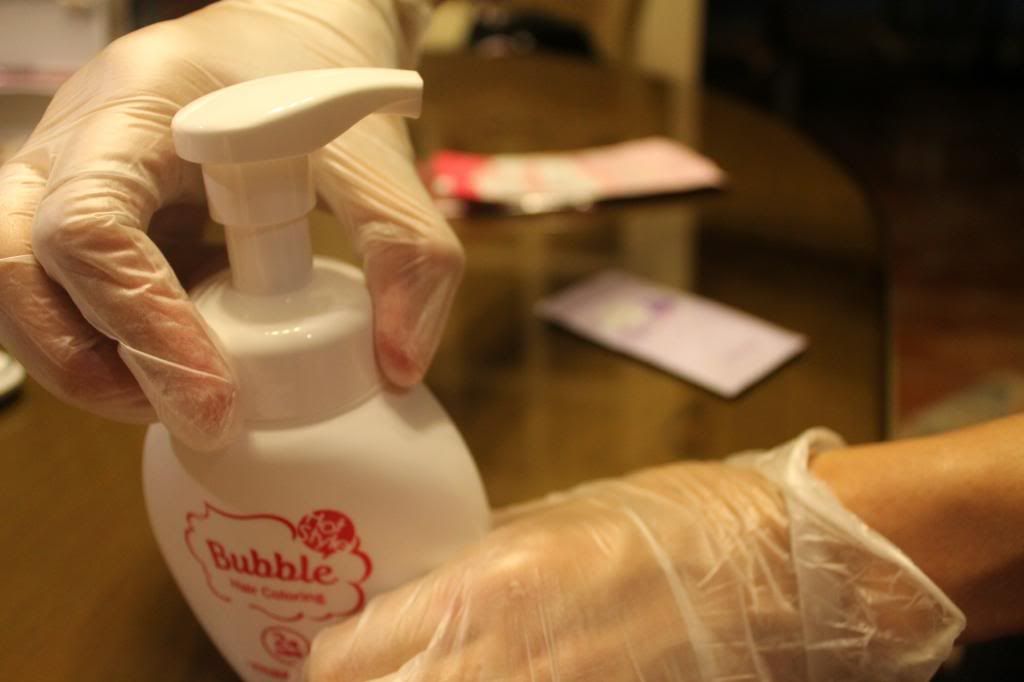 BUBBLE HAIR COLORING!! <3
the instructions manual..................................that was, unfortunately for me, written in Korean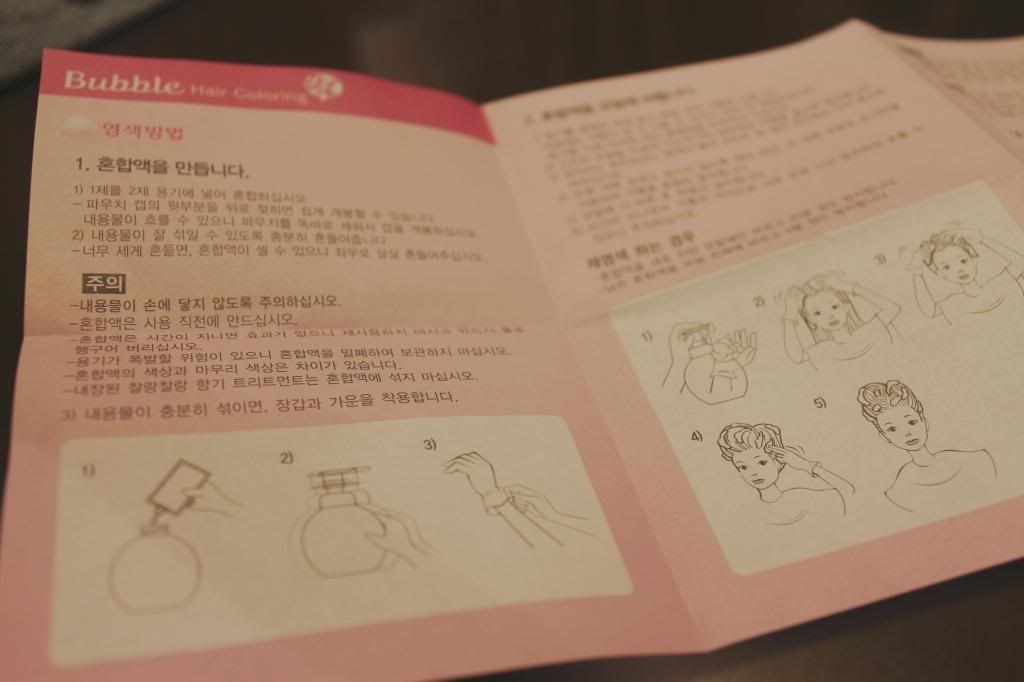 Letting the solution work on my hair teeheeeeeee. Oh the wonders of chemicals.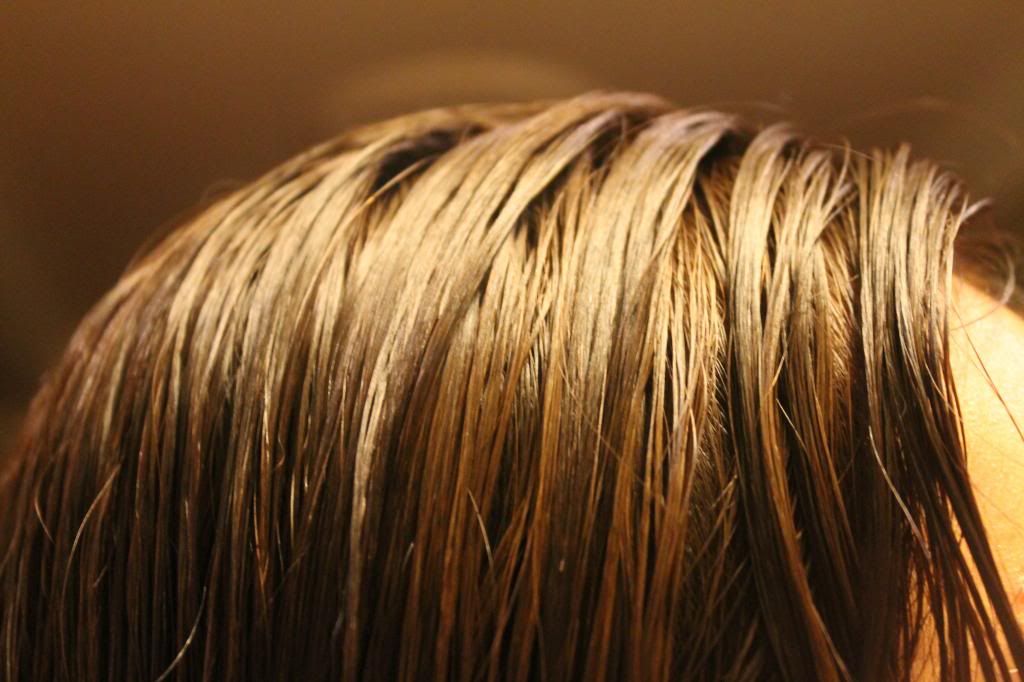 AND OK FINE.
I had to admit: I didn't color my own hair; I had someone else do it for me. =))))
Teeheee.
BEFORE:
(and yes, my 6-year-old self lacked two front teeth HAHAHA)
Oops but wait HAHAHA nasobrahan ata sa pagka before. =))))
Here you go. =))
BEFORE (really) (I had dark hair)
Obligatory "AFTER" photos:
Under the light: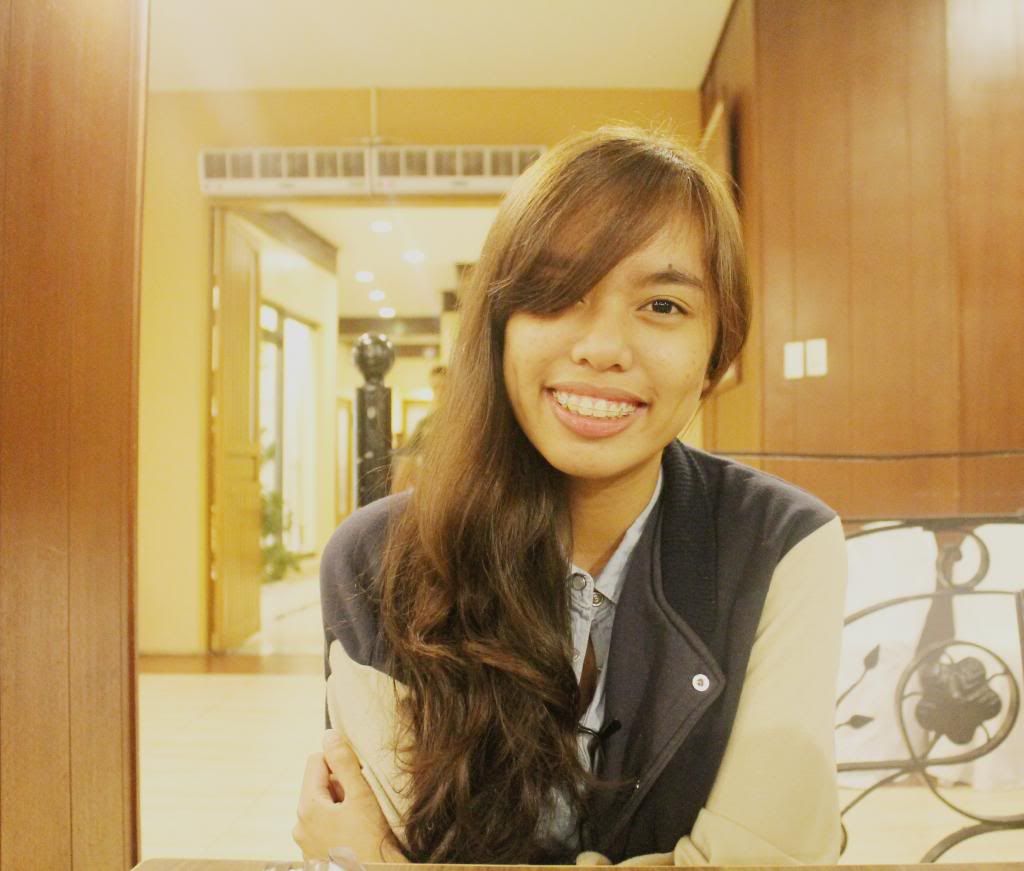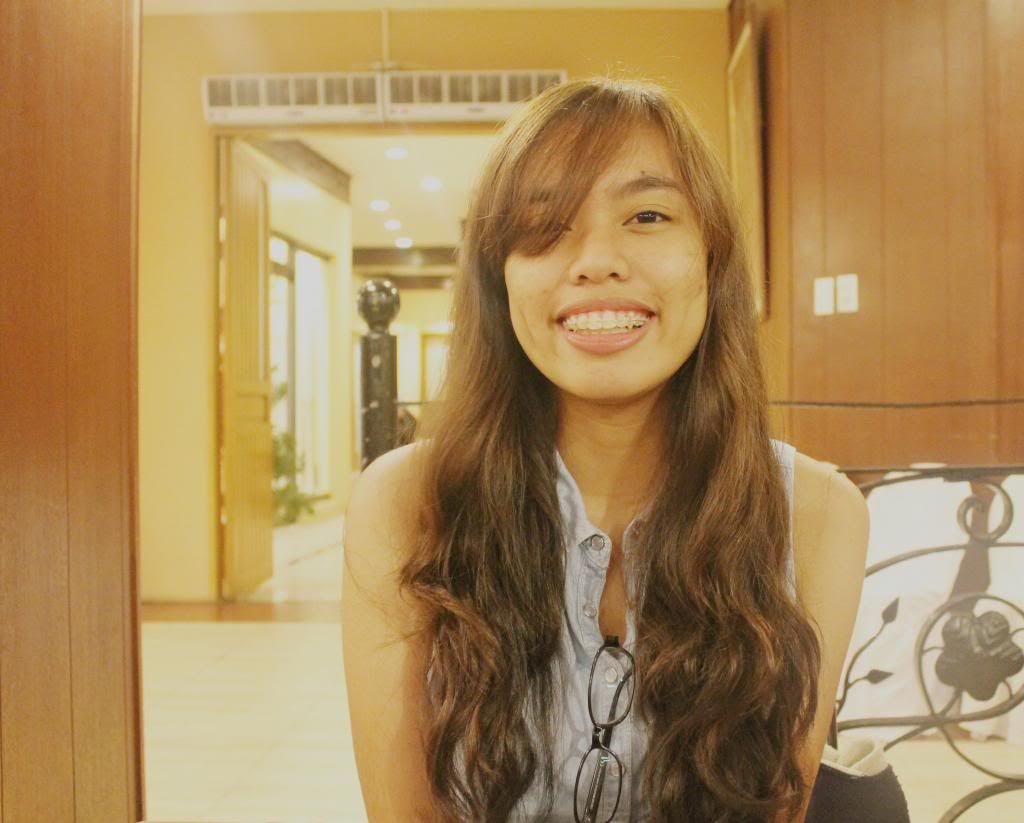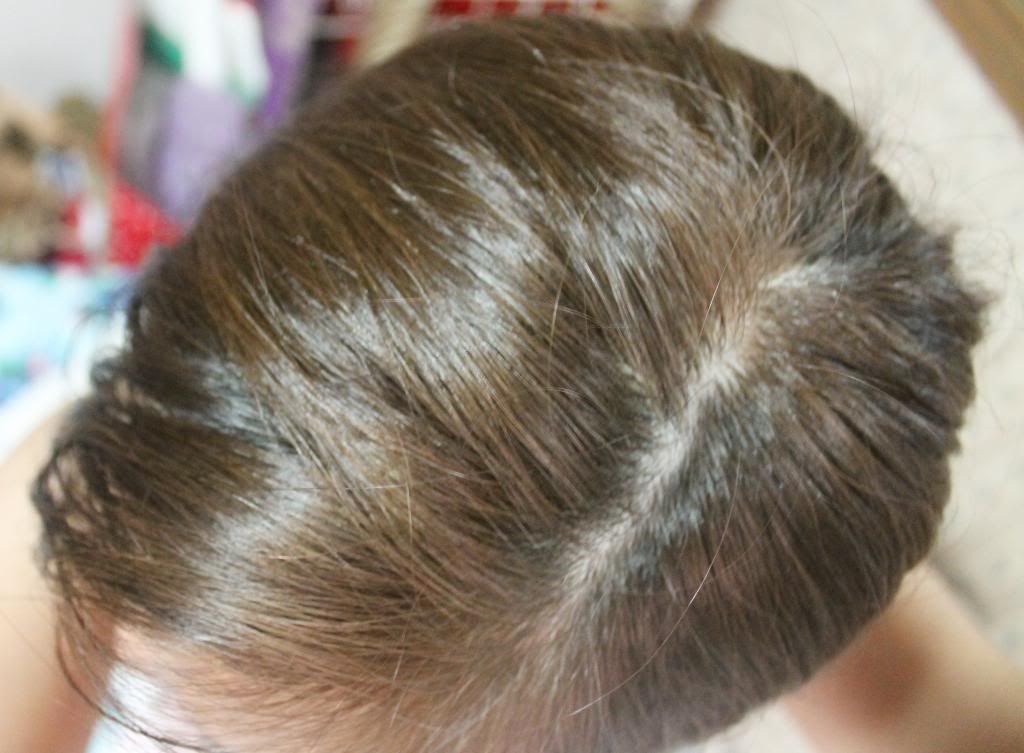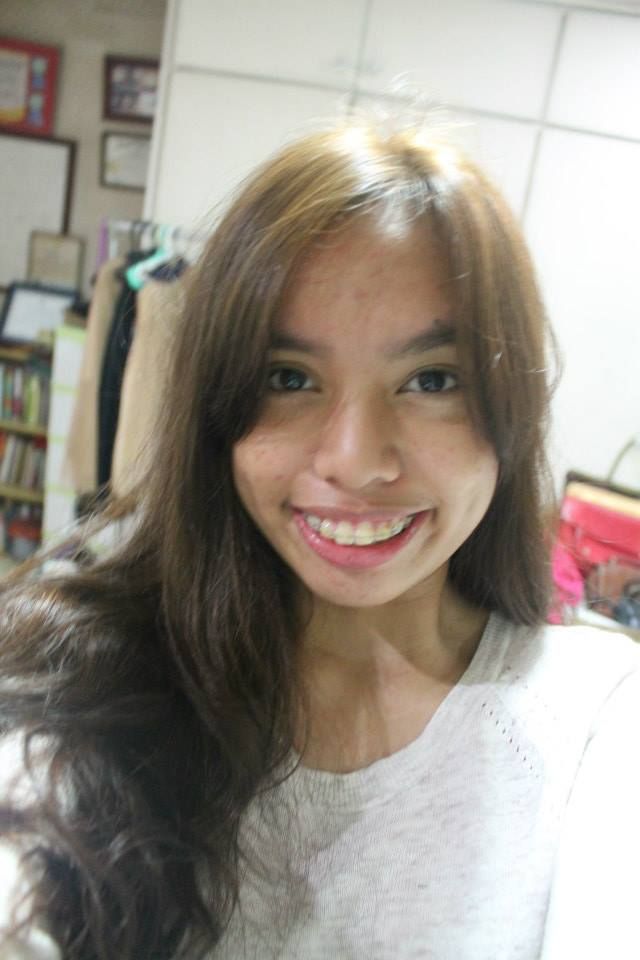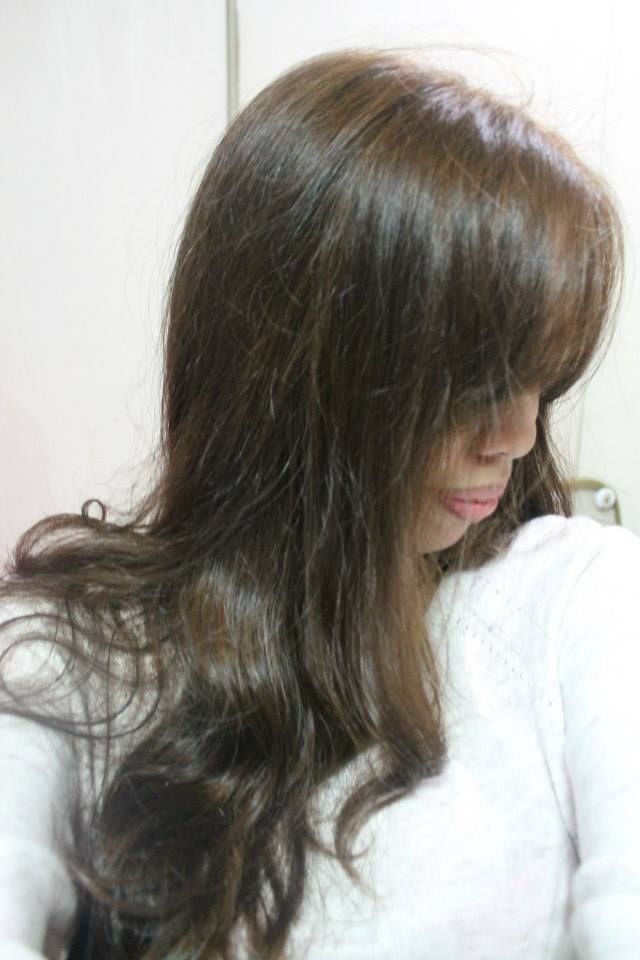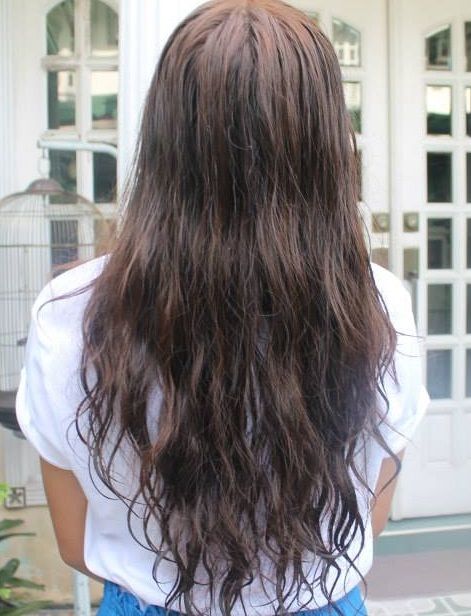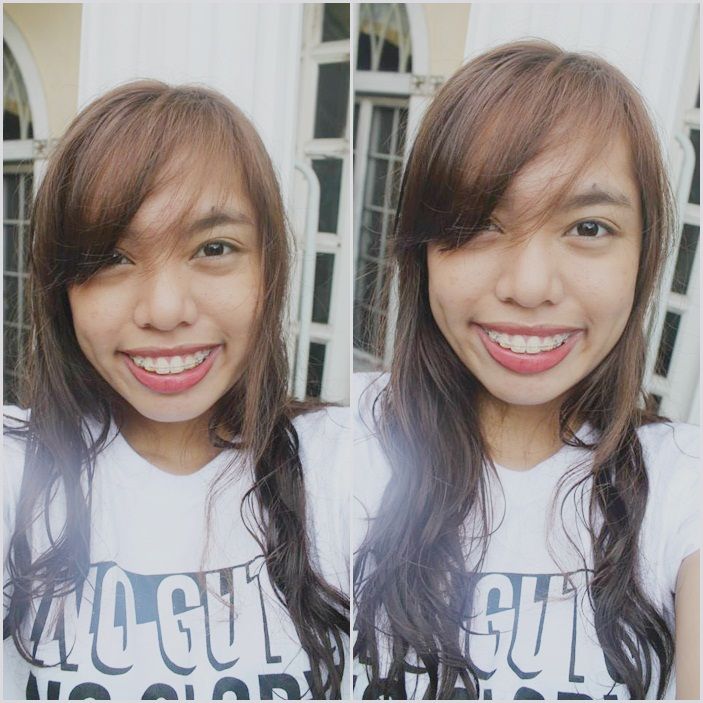 My critique:
I'll give it a 9/10!!! Super easy to use and it was totally not disappointing! :) Yippeeee. 375 pesos is so worth it. However, make sure you know how to color your own hair when you do this at home. =)) I had to go to a salon nearby to do touch-ups here and there, because I had no experience beforehand with hair coloring and such. But yeah. I'm very happy with the outcome :)
---------------------
Just a quick jeje outfit post of what I wore to school on a sunny day:
AIESEC T-Shirt
("No Guts, No Glory; No Guts, No Story") for recruitment week (big shout out to my aiesec family woot woot!!)
Blue shorts- bazaar
Red flats- bazaar
Cute, floral umbrella- Forever 21
(and yes, yung umbrella lang talaga yung purpose kung bakit ako nagpapicture HAHAHAHAHA)
Say hello to the sprain-that-I-am-so-not-proud-of-acquiring =)))))
(short backstory: I was running around the CAS Oblation garden when BAM! I tripped over a few pots here and there. And the rest is history.)
Some other random photos that I grabbed from random people (hi dad, Bekai , Jana, and Jean HAHA):
I am a very happy brown-haired dork yes,