Last Monday, Browhaus Manila invited us to a bloggers event at their newest branch in Lucky Chinatown, to witness how their famous "Brow Resurrection" is done. {Warning: this post is very photo-heavy!}
---------------------------------------------------------------------------------------
I find it really cool that Browhaus Manila seeks to bring their customers to a different destination each time they visit a particular branch. If you noticed in their Serendra branch, the interiors of the place is full of sketches of eyes; in their Glorietta branch, they incorporated a "Submarine" theme. As you could notice from the picture below, the theme of Browhaus Manila's newest branch is "Outdoor Camping" (notice the colorful tents behind the tarps!!)
I find the theme very cute, actually. Now I can't wait for them to open new branches to find out what other themes they have in mind!
Another fun fact: notice those eyeballs? They're actually characters with names. They have Romeo, Lady Gaga, and even Bruno Mars, too!
Everyone in the event LOVED what they did with the floor. I mean, who doesn't like grass, right??
They even have a bbq grill inside! How cute!
We were given dozens and dozens of siomai, siopao, hopia, and other delicious Chinese food, because hello--- we were in Lucky Chinatown!! (love this place, btw)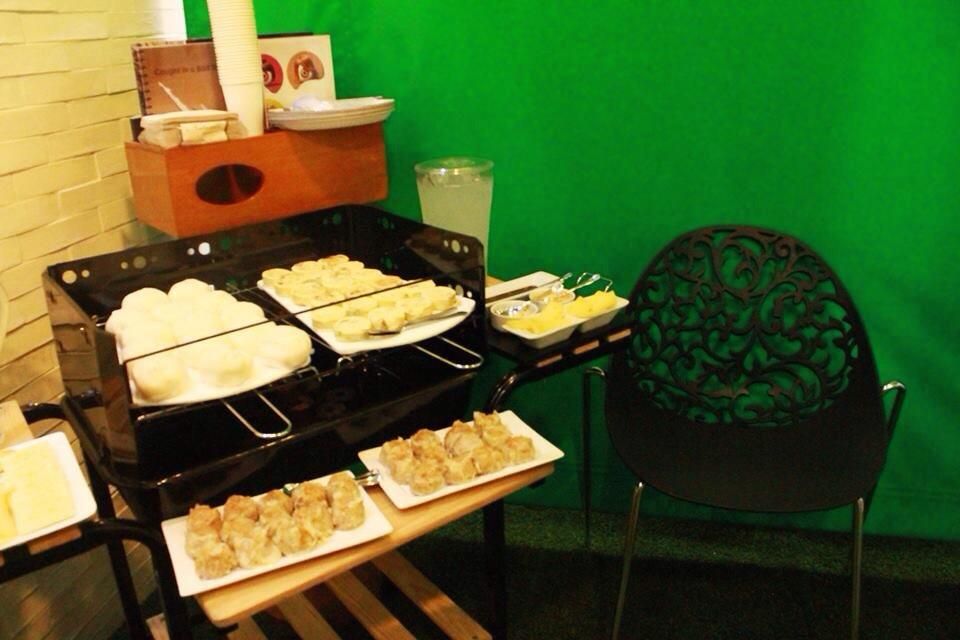 -------------------------------------------------------------------------------------------------
So at the start of the event, Browhaus Manila shared with us their mission and passion. I, too, strongly believe that eyebrows can either make or break a person's face. As what I previously said in my old post
, eyebrows define and frame a person's face. In the mornings, when people are either too lazy or too busy to even put on make-up, a pair of well-defined and groomed brows can actually save your day.
According to Browhaus, there are different kinds of "Brow Crimes", namely:
The confetti brow, The Mona Lisa , The Red & Blue Aliens (which you can get from tattooing or embroidery methods), The Comma, The Caterpillar, and The Flying V.
Fortunately, the brow architects of Browhaus Manila are always ready to save you from every brow crime you can possibly commit.
If you have noticed, my brows are very strong and thick, and that is why all I need do to maintem them is to always have them groomed, and to make sure they don't look messy.
However, other people have a problem different from mine. Some people (like me) have "too much brows going on", while others actually need "more brows". And that's where Brow Resurrection v2.4 comes to the rescue!
WHAT IS BROW RESURRECTION??
"Brow Resurrection is Browhaus' signature semi-permanent treatment.....it is an advanced technique that is unique to Browhaus. It boasts a more detailed and natural stroke perfected by Browhaus' dedicated Research and Development team, with a finer finish than normal brow embroidery."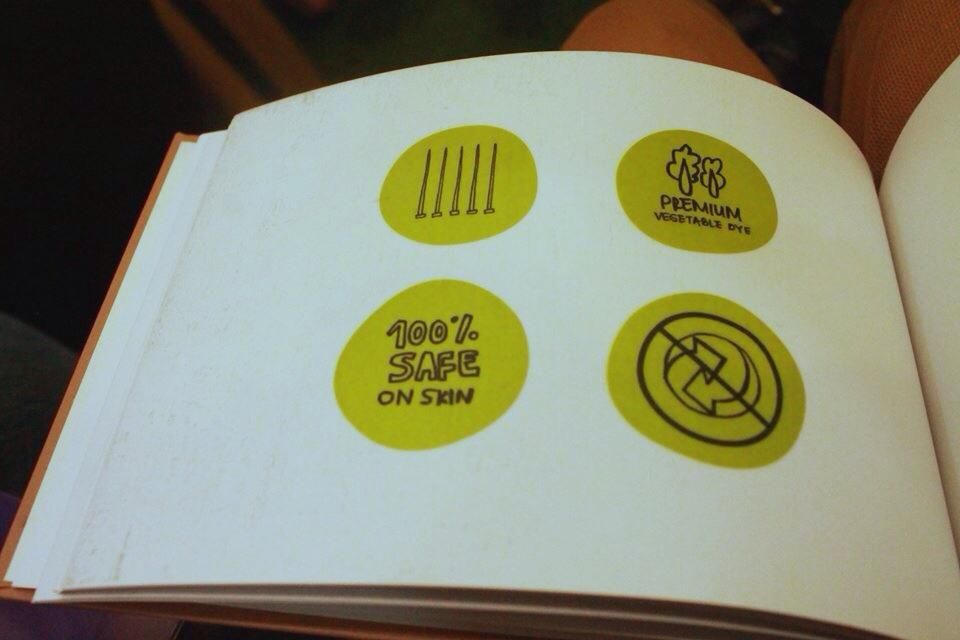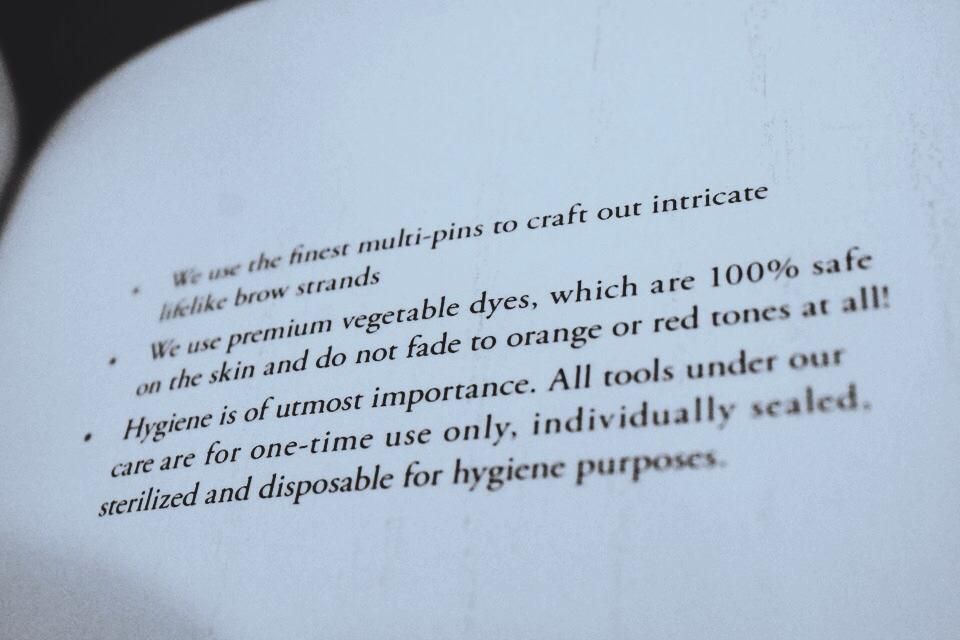 FYI, Brow Resurrection is very different from tattoo procedures. If you noticed, tattooed eyebrows don't look natural at all! The ink usually turns into blue or green after some time. Plus, it's permanent, too, so you can't really do anything about it- it's there with you forever, even when your skin starts to wrinkle or sag. On the other had, Brow Resurrection is completely different.
First of all, "BR" crafts out intricate and life-like brow strands (unlike tattoos that look very unnatural). The ink used is vegetable ink, and 100% very safe. It doesn't fade into blue, green, red, or any other color. It's not permanent, too. Unlike tattoos that penetrate up to the third layer of the skin, BR only reaches the epidermis. After about 2 years, the vegetable ink fades away, so that you can have it retouched-- no, it doesn't fade into any other color; it just literally fades away--, AND that's a good thing because then you can adapt to what your skin needs. You can reshape it, thicken it, or lengthen it by having it retouched. If your skin starts to sag or wrinkle by then, the brow architect will be able to re-construct your brows accordingly.
The best part? It's totally NOT painful! They even said that threading is more painful than BR (and jsyk, Browhaus is very famous for their almost pain-free threading services).
On that day, we witnessed three lovely ladies' transformation as they went through the Brow Resurrection Version 2.4! One of them was for a touch-up session (she had her brow resurrection done two years before), and two of em were first-timers!
Did you know that as of now, there are only FOUR brow architects in Manila who are allowed to perform the Brow Resurrection procedure? It is because it takes about months and months and months of training before one becomes qualified to do it. To perform BR, one must have precision and very steady hands, above everything else.
The whole procedure takes about 90 minutes, and the good part about it is that there's no "holding period". Yes, you can go straight to work after the procedure, or even party the same night!
The first part is the cleaning. This is when they shape your brows.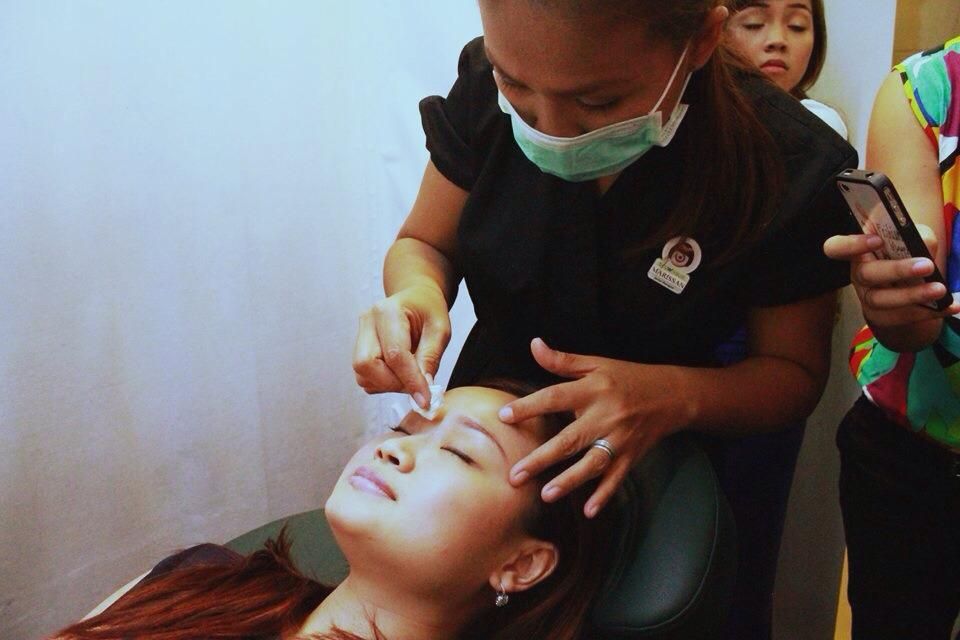 Next, they use a special pencil to fill in and construct your brows.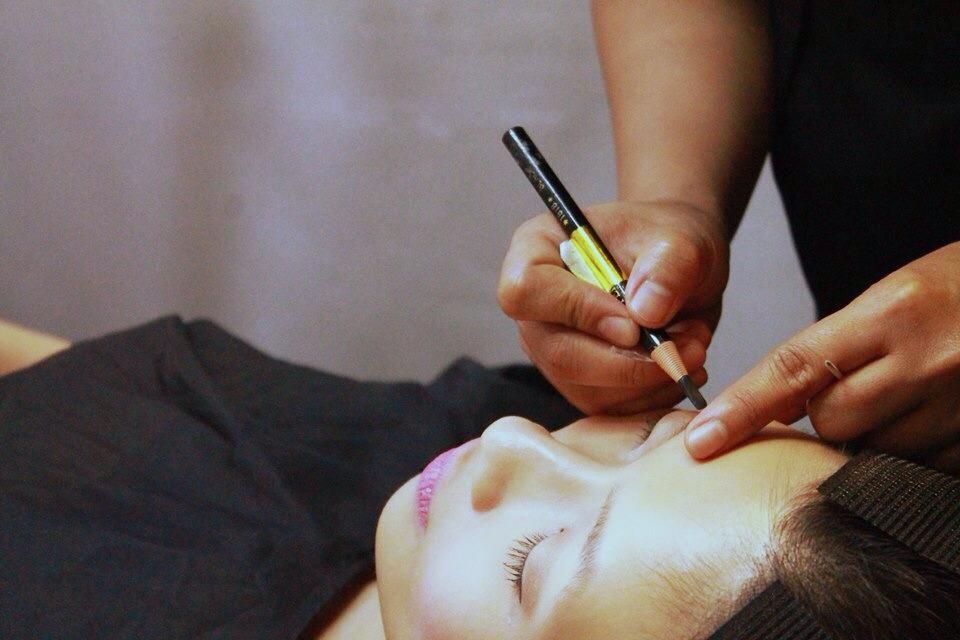 The application of the anti-bleeding and the numbing cream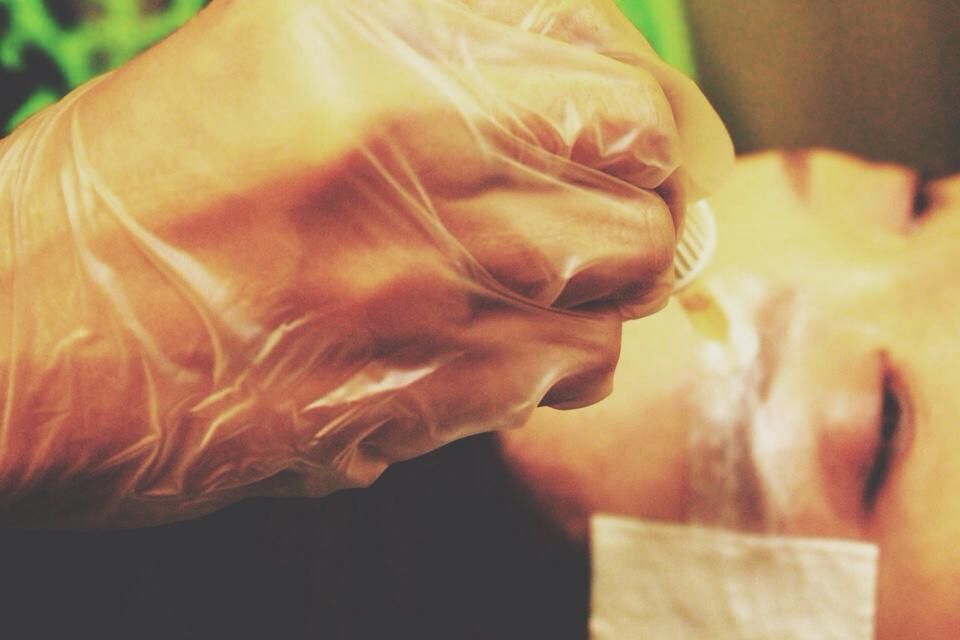 Notice the life-like strands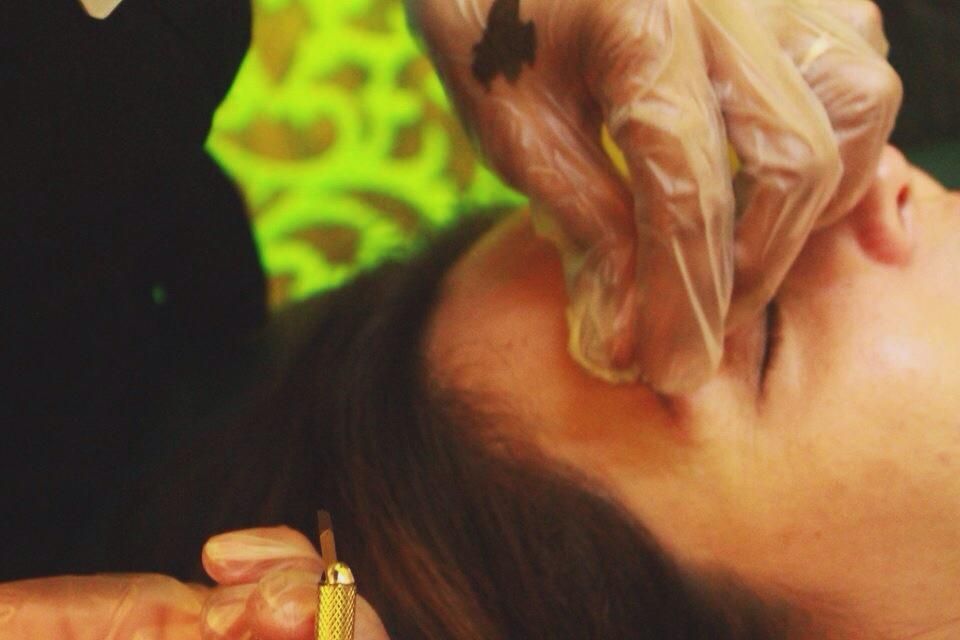 Don't be deceived by the looks of it; this procedure is actually painless!!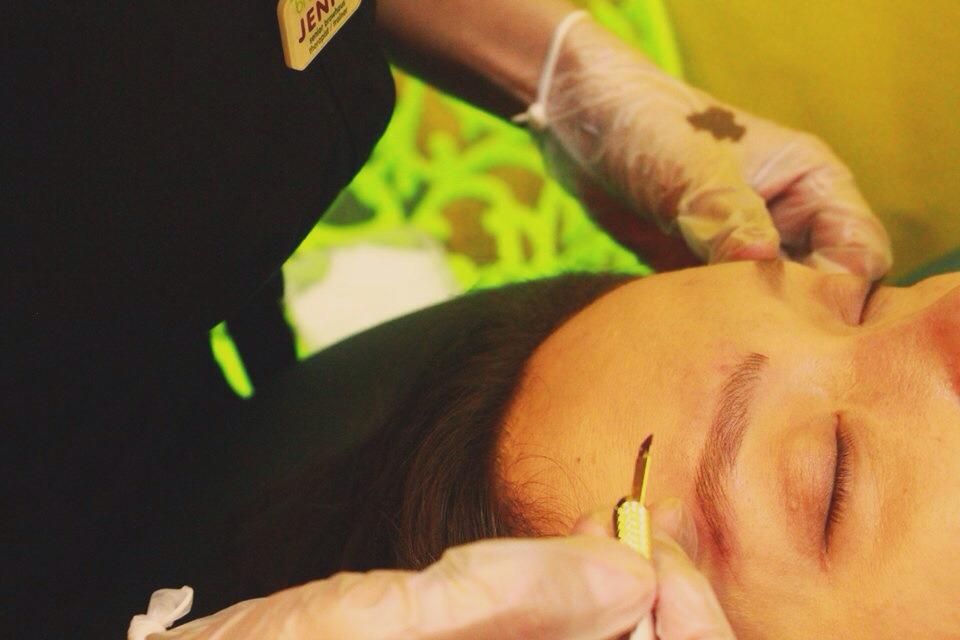 You see that "camera" over there? That's sort of like an "after treatment" for BR. Browhaus has always believed that having perfect brows will help you achieve that "picture perfect" moment, and thus, the camera theme (the idea's so cute, right??)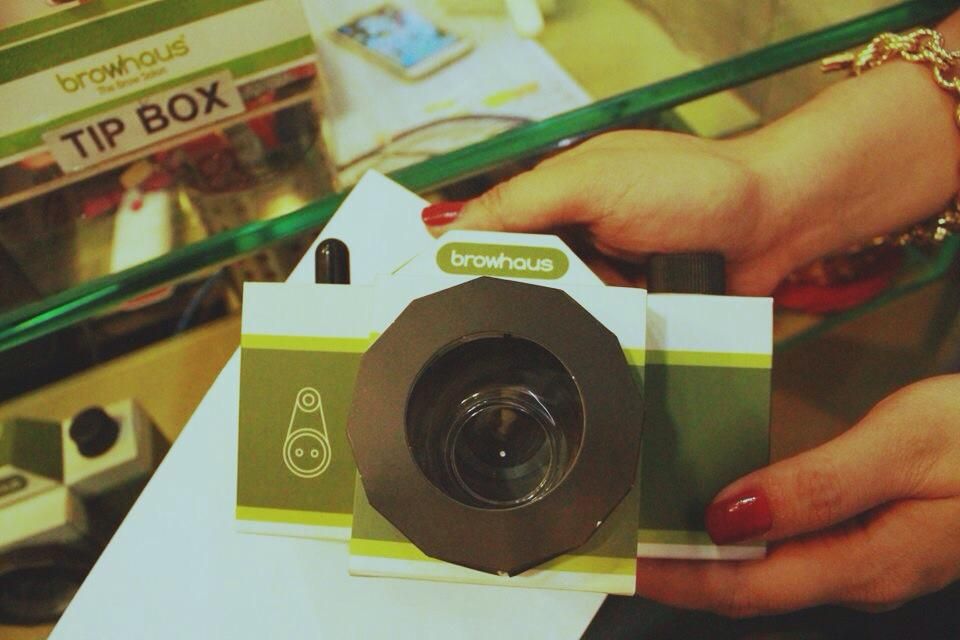 If you open the box, this is what you'll see.
The bowl (the other stuff are inside the box)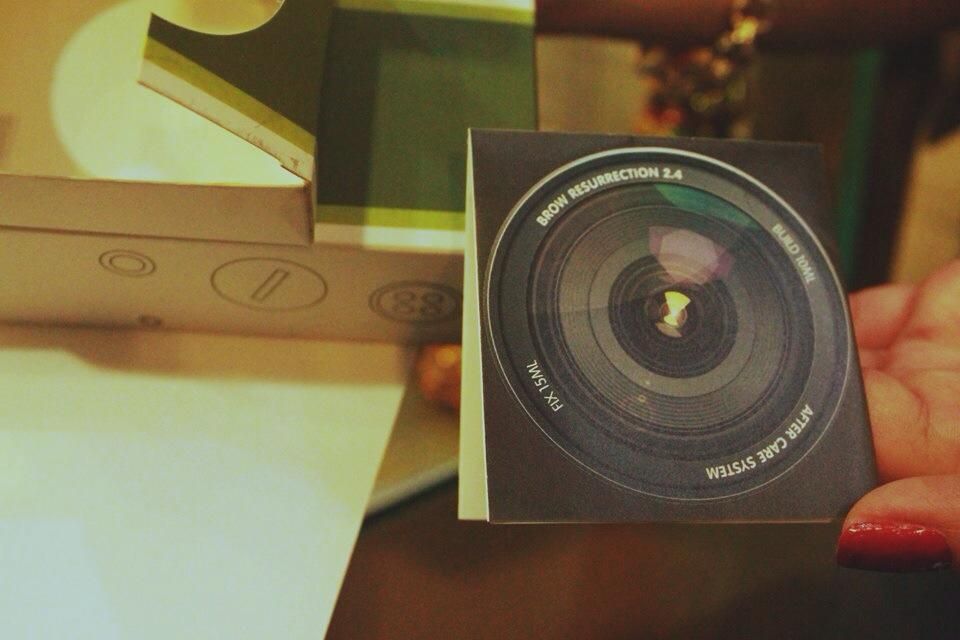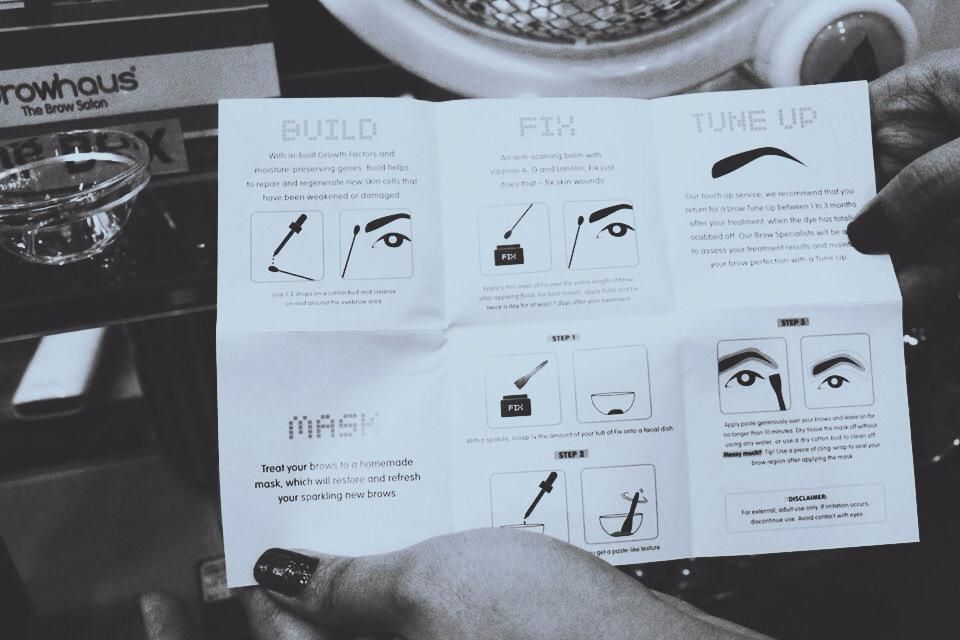 --------------------------------------------------------------------------------------
So before y'all get to see the results of the BR, I also want to share with you my brow construction (threading) experience! I've already blogged twice about how much I am in love with their threading services. It's very painless, and the results are always incredible!
That's me inside one of their tents! I love how cozy the place is. Their seats were very comfortable, too.
I felt really relaxed, actually :P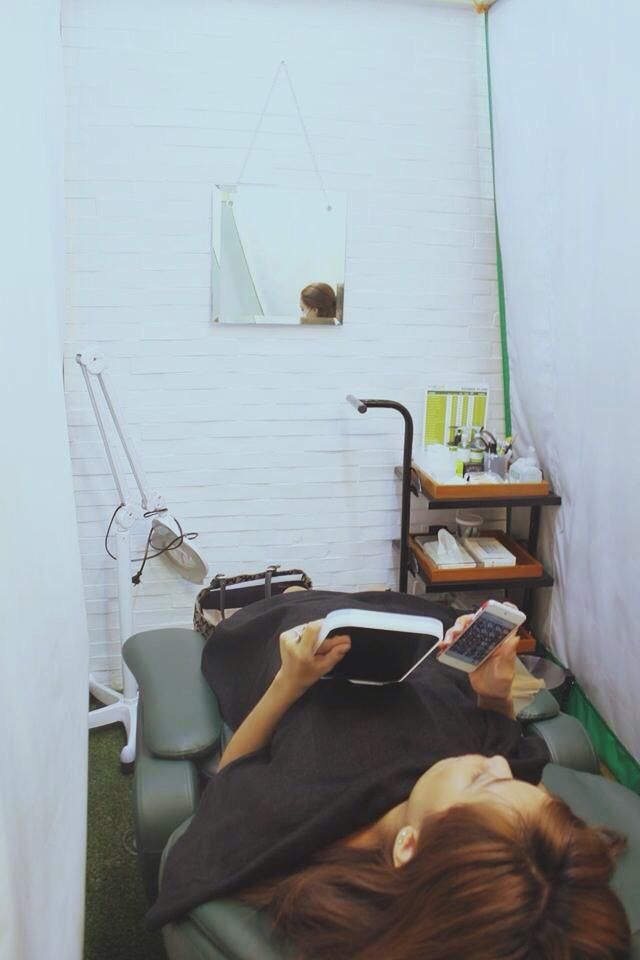 Ready for my threading!!! :)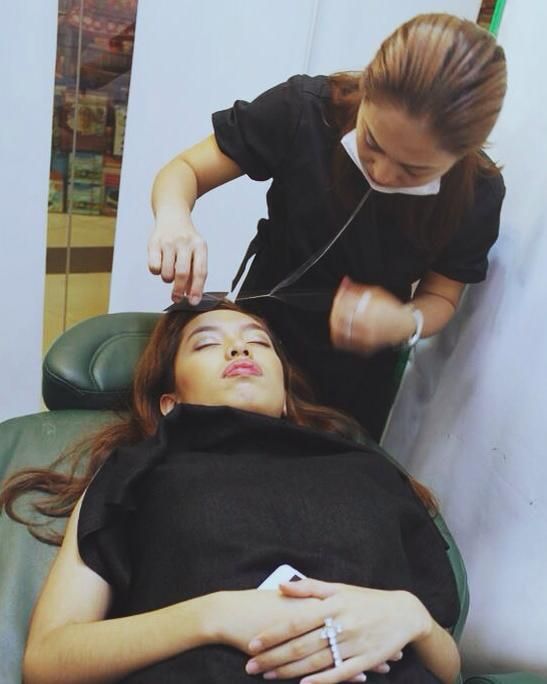 I don't know why, but the trimming part is always my favorite part. HAHAHAHA. I'm so weird.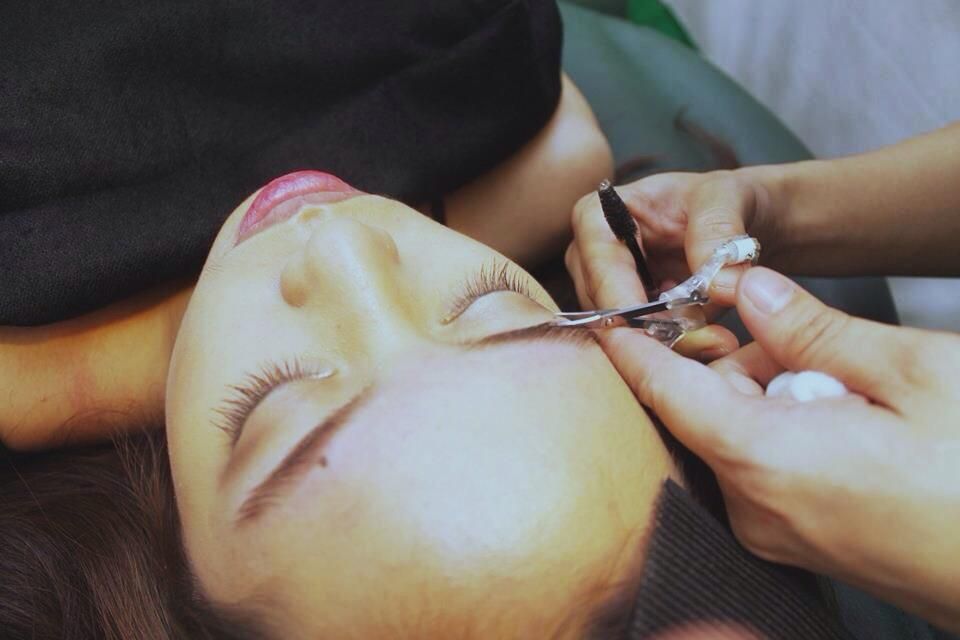 I love how they pay close attention to details :)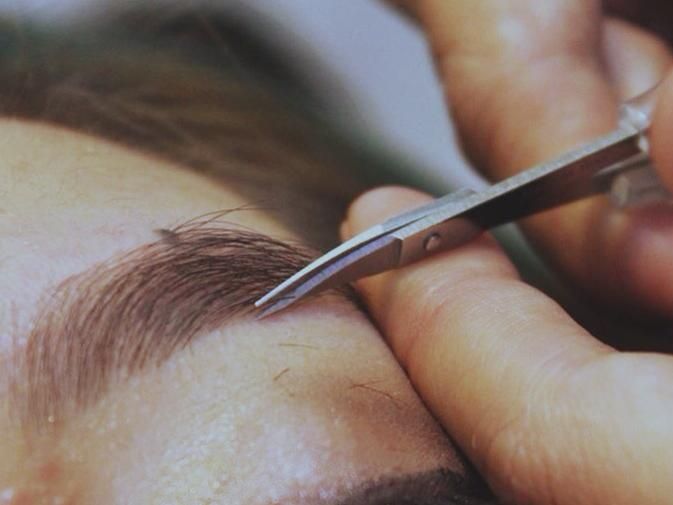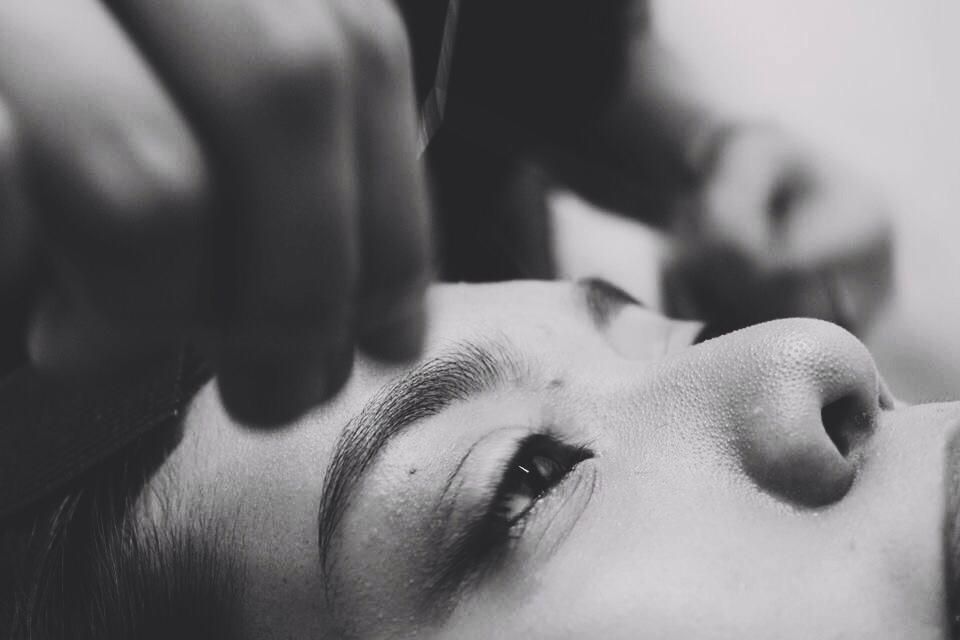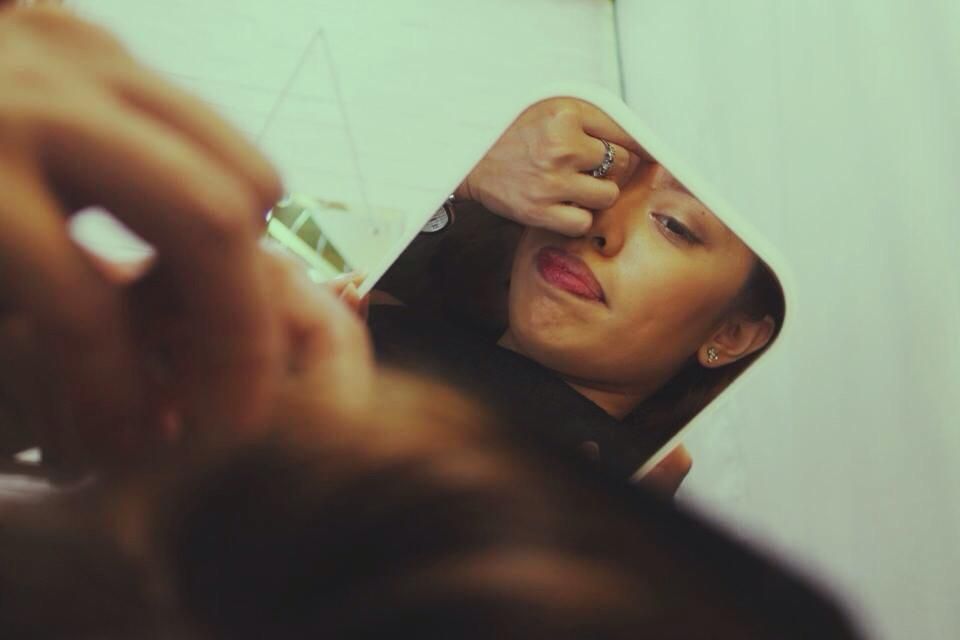 (thank you Ken for these awesome shots! lol)
---------------------------------------------------------------------
Okay, so are you ready for the before and after shots??
BEFORE Brow Resurrection: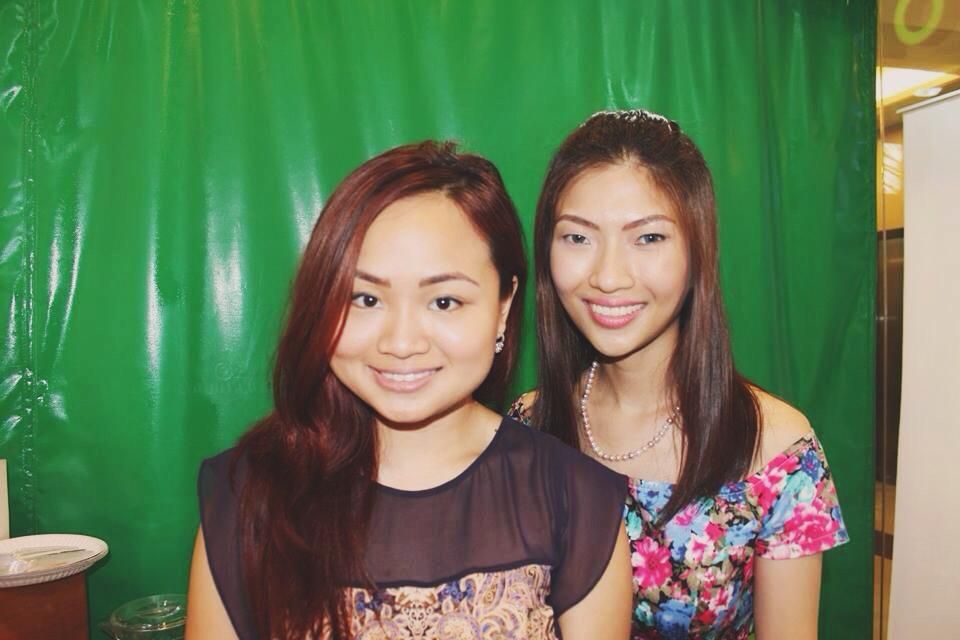 Close up shot. You won't even differentiate which is real brow strand and which isn't!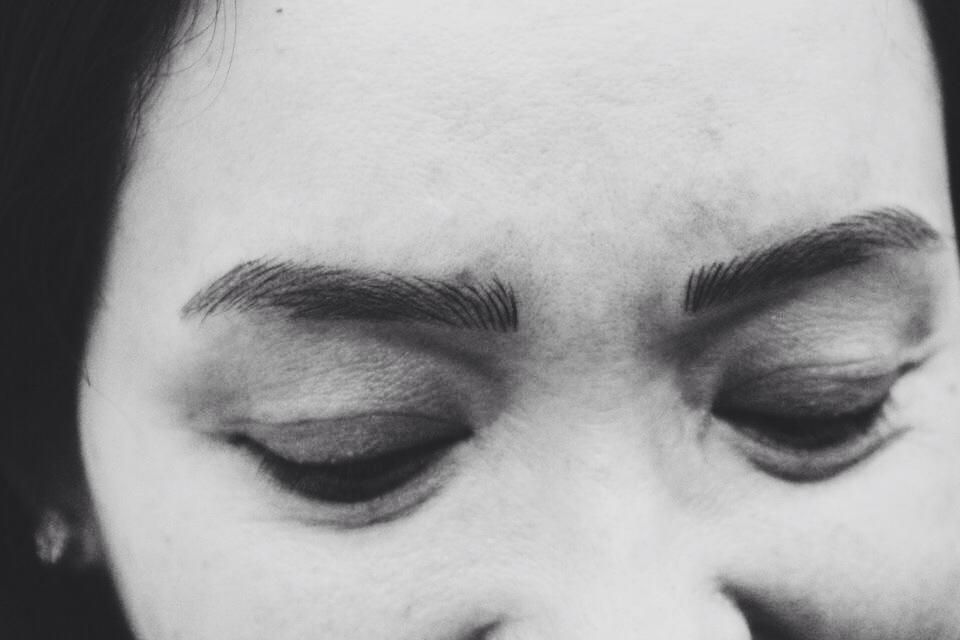 After touch-up of BR :)
(wasnt able to take a before pic huhu)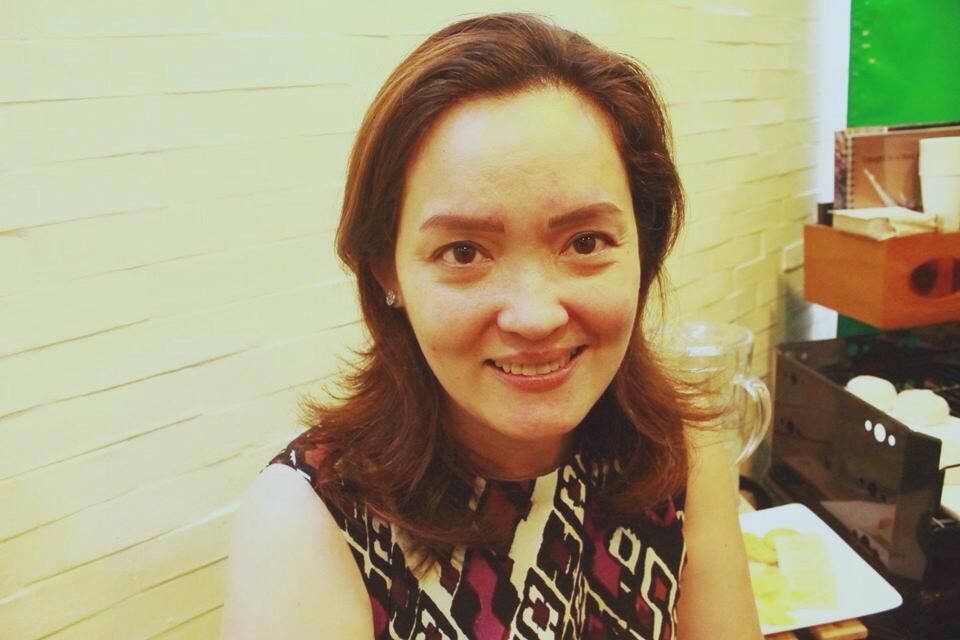 Now here's my before and after (brow construction/threading):
BEFORE
Thank you so much to Browhaus Manila for our brow-wow brows! :) Especially to the lovely managers. Shout out to Miss Monique and Miss Tam! :) Thank you, thank you!
With fellow blogger and Iskolar ng Bayan, Miss Alyssa Yu of Glamourtini! :)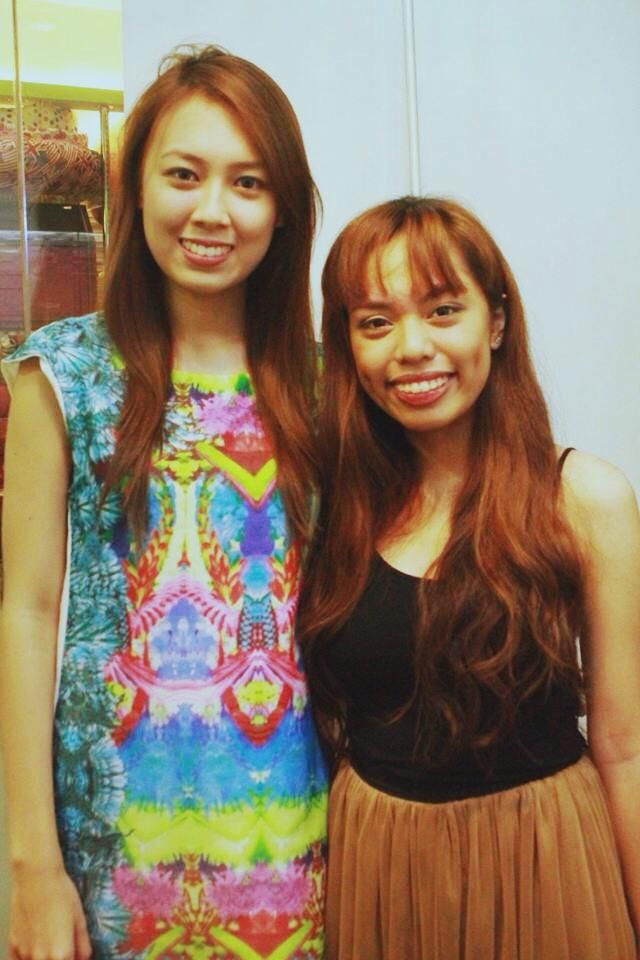 With the Browhaus team and some of the fellow bloggers!
I'm going to end this post with a joke lol.
"Anong sabi ng kilay sa kabilang kilay?"
Edi...
"Hey, brow!!!"
No????............ ok. :(
xoxo,
The Teenage Queen