Hey girlies! How are you all doing? Hope everything's been fine with y'all!
The school year had just begun in UP three weeks ago, and we're already so busy with acads and org stuff altogether. Thankfully, #NuanWeek (my sorority's week-long event) just ended last Friday and it was such a huge success-- all thanks to UP Manila, of course. And because I had just crossed out one line off my "To Do List", I'm now only left with acads, blogging and OrComSoc duties to work on. Push! (HAHAHA feeling madaming time, nakakainis!!!!)
Anyway, here's a quick #OOTD taken at school, weeks ago. It was a Tuesday then, and I had no one to be with after class (huhu loner!). Good thing April, one of my college girl friends, was free (and bored) then . We went on a date and spent 4+ hours just talking to each other HAHAHA (na-paos ako after, I swear).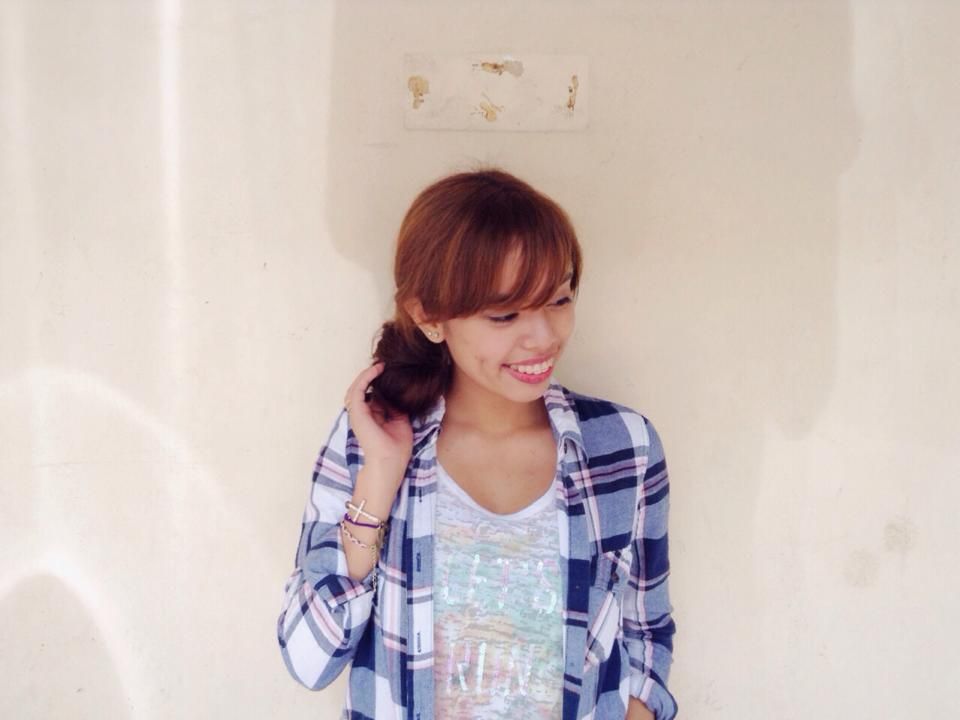 One thing April and I have in common is that we like stalking bloggers' Instagram feeds. I might (weh, might lang daw HAHA ) have mentioned to her that I wanted a new #OOTD post, and she was very supportive of my....choices. Hahha. She's the incumbent president of Shoot UPM anyway (haha, in-announce!), so she wanted to unleash her creativity (naks) and go on a mini shoot, too (Pero sa totoo lang, dinedefend ko ka-artehan ko HAHAHA). We traveled all the way from the CAS building to the White Colleges just to look for a "nice spot"; hindi kasi photogenic ang UPM eh HAHA.
Plaid shirt: a hand-me-down from my sister
White sleeveless top: Cache Cache
Skirt: bazaar
Bracelets: Divisoria + a gift from my HS bestie, Angeline <3
Watch: Aldo
Turquoise ring: Forever 21
Gold peace sign ring: A gift from my sorority sisses, LC Bekai and Lili :)
Just a tip: Plaid shirts are such an essential. They're super easy to be paired with, and they're perfect for achieving that laidback, "I'm-too-lazy-to-dress-up-but-BAM" look. Lol, did I make sense? HAHA probably not. But yeah, I really encourage you girls to find a plaid shirt too, because they're a classic and they never go out of style. Wear them over shirts, tank tops, and dresses and you'll be surprised how a simple plaid top can transform your outfit!
Anyway, April took me to Vito Cruz for lunch. Can you believe that, in my 2 years stay in UP, it was the first time I actually went on a Taft adventure?? And I'm addicted already! I go there at least every week now to eat HAHA . So far I've tried Tori Box, Starrs, and Zark's. I know they're so "mainstream" already, but I haven't really explored much of Vito Cruz! So guys, if you know of student-friendly places to eat along Taft, PLEASE PLEASE comment them below!!! It will be lovely to hear from you <3
---------------------
I'm ending this post with a screen cap of April's IG post :) We're almost always together nowadays since we're classmates lol. And because we're good friends lie that, we always help each other out in our orgs' projects. =)) Just recently, she covered my sorority's event last week ; I helped her out too, on this mini film/project she has. Watch out for this, guys!! Can't wait for the #KF team to release this. *wink wink*
Talk to you soon!
xoxo,
The Teenage Queen