I'm very giddy right now as I write this. I am just so excited to share with you all my newest discovery at the heart of Malakas street--a homey Spanish-inspired restaurant called Mateo's.
Two weeks ago, we got invited to a food-tasting event at Mateo's. And grabe lang ha! This was honestly the most fun I ever had in an event yet! :) Thank you so much to Mateo's and to Ms. Dina of DigitalMedia PH for inviting me to this super fun evening :)
Activity #1
To break the ice, we started off with a gingerbread house decorating contest!
Everyone was soooo delighted to play around with icing and candies. When I was a kid, my mom would always bring home a gingerbread house for Christmas. The houses stopped coming when I turned older, and it wasn't until this time that I finally got to play with one again.
We were divided into 4 teams, and the team with the prettiest house gets to take the gingerbread home with them; the members of the winning team just have to talk among themselves who gets to take the house home, which is, DUH, where the real competition happens. HAHAHAHA!!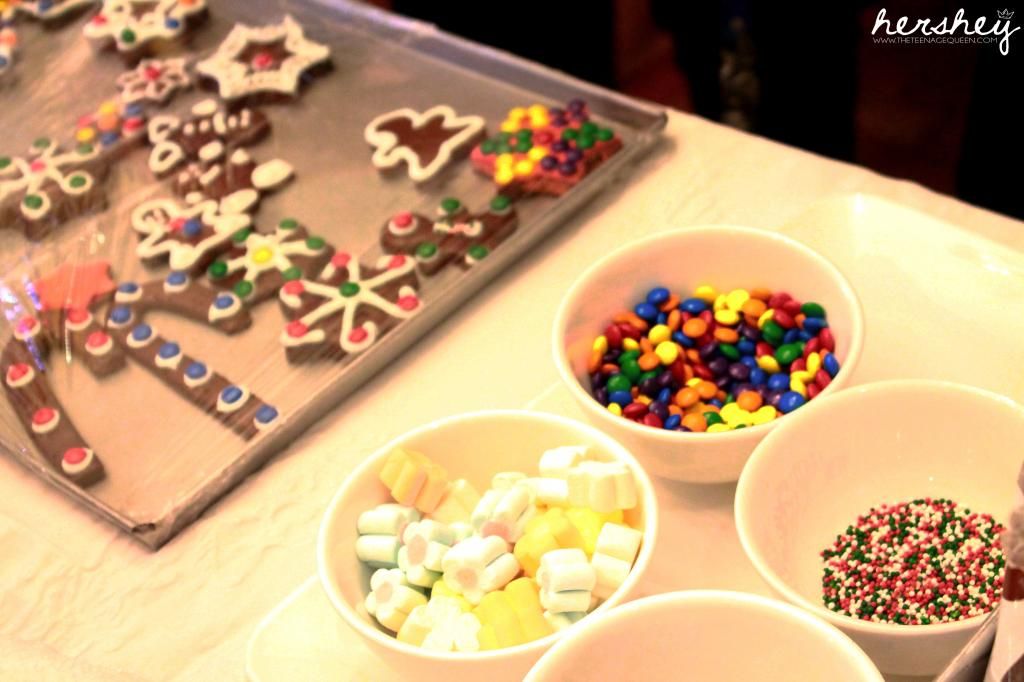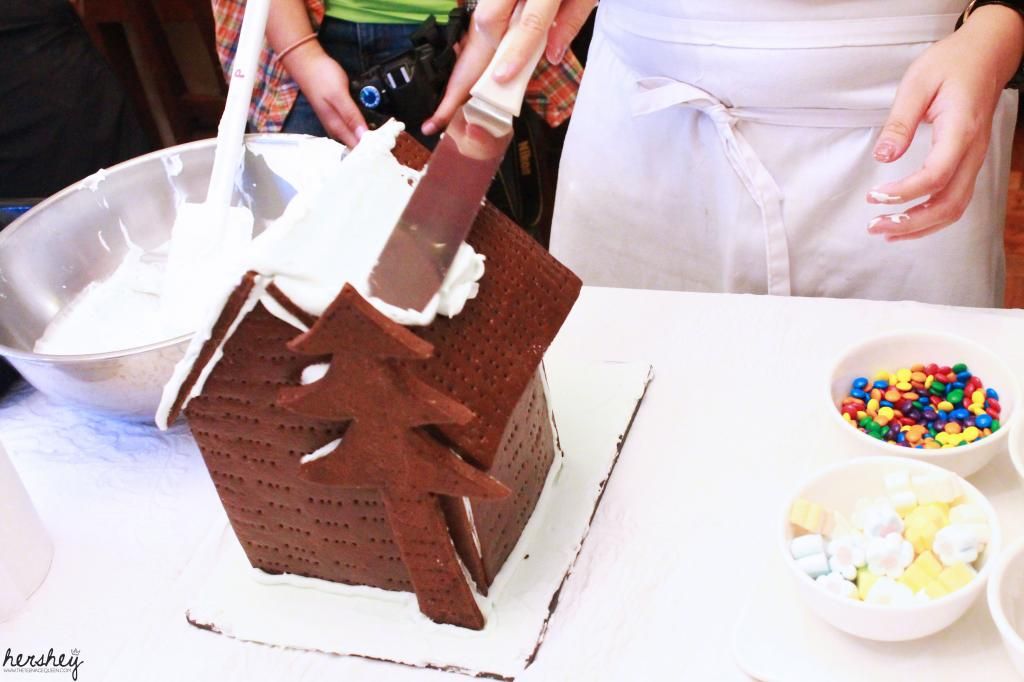 Say hello to my team! :) Pat Lou (blogger behind www.teampatlou.wordpress.com) and Ms. Rosey :)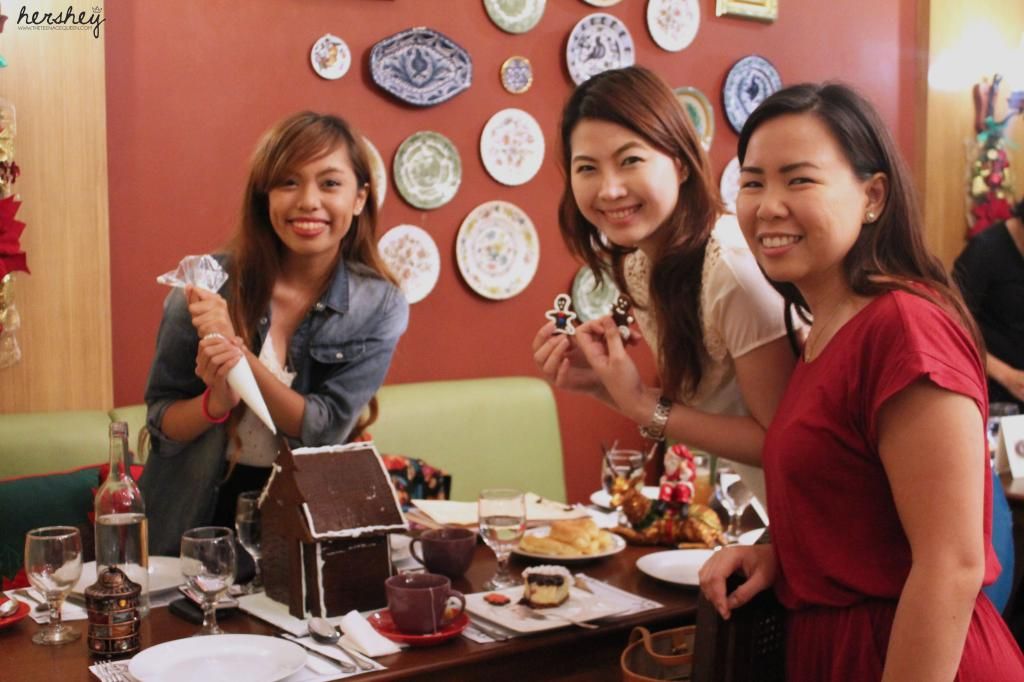 Ta-da! Look at our masterpiece. Hehe.
Check out the works of the other teams! :)
OF COURSE OUR TEAM
didn't win...... but we had fun, and that's what matters most, right? :( =)))))))))
Wanna decorate your own gingerbread house? Check this out! :)
Other than gingerbread houses, it also rained cupcakes that night. <3 Yum!
Okay, introduction time! These two fellas, Ms. Lala and Sir Miko, are just some of the amazing people behind Mateo's.
Fun fact: Mateo's was actually a house before it was a restaurant.
Another fun fact: Sir Miko is holding a photo of his great grand father, Mateo, who was a former HUKBALAHAP member--- he was the inspiration behind this restaurant.
Gotta love their beautiful, homey interior! Mateo's function room has good lighting and air conditioning as well.
For those looking for venues, Mateo's is the perfect place to hold your parties :) Check these out
Their garden + another function room
The door to the function room we were at
Activity #2
Ms. Rosey taught us how to prettify our cords/chargers with yarn! :)
Check these out! So cuute :)
Do you want to learn how to crochet as well?
Activity #3
Senorita Kara taught us some basic Spanish as well. I really enjoyed this part! I took 6 units of Spanish last school year, and I must admit, foreign language isn't my forte. I've always found it difficult to learn a language, but attending this short class refreshed me with the basics of Spanish once again. :) We had so much fun too because the class was so interactive.
And now, for the post you've all been waiting for:
I am very much in love with Mateo's Restaurant and Cafe. Their food was nothing short of amazing, and everything tasted so authentic and homey. The presentation was an A+ too. The price is affordable, ranging from 200-600 pesos, as far as I remember.
Tortilla
Spinach Quesadilla (a favorite of mine!!)
Tapa + mushrooms
Paella--- everyone's favorite!!! <3
They offer both Spanish paella and paella Negra :) Yum yum yum!
Their kare-kare is amazing, too.
The pasta, two thumbs up! :)
Best blueberry cheesecake I've ever had in the Philippines. It reminded me so much of the Cheesecake Factory in the USA. :) It's that good.
Of course, a post is never complete without obligatory photo ops! hhehe :)
Say hi to Ms. Dina of DigitalMediaPh :) Thank you so much, Ms. Dina! :)
With fellow bloggers and Ms. Lala, co-owner of Mateo's !! :)
With the owners of Mateo's Restaurant and Cafe :)
So happy to have met new blogger friends that night! :)
My rating?
A 5/5! I had so much fun.
Mateo's Restaurant and Cafe has
a homey, comfy ambiance (we stayed at the function room)
good lighting
fast wifi
good airconditioning
an affordable menu
amazing food
polite servers
The best part is that everything looks so artsy and hipster. Lol.
I actually enjoyed Mateo's so much that I brought my family there with me two weeks in a row!
My family loved the food and place. My well-travelled dad was impressed with the food because it tasted very authentic.
The second time I brought my family here was just last Tuesday. We had "balikbayans" (our cousin Tim and his girlfriend Stephanie) from Los Angeles. They LOVED the food. Stephanie had bagnet for the very first time, and she loved it so much. The paella was a winner as well. They loved everything, actually.
For dessert, we tried cheesecake and moist chocolate cake. We have decided that we didn't know which one was our favorite. We loved both cakes. :)
MATEO'S RESTAURANT CAFE IS LOCATED AT
76 MALAKAS STREET, QUEZON CITY
I am so happy just writing this post! Thank you for the wonderful experience each time I visit, Mateo's. My family and I are now regular customers of yours!
xoxo,
The Teenage Queen